these guys make everything buffalo – from buffalo steaks ice cream to caramel
Mozzarella di Bufala can and should be tasted in Agro-Pontina, Lazio. And here's who you should be tasting it with!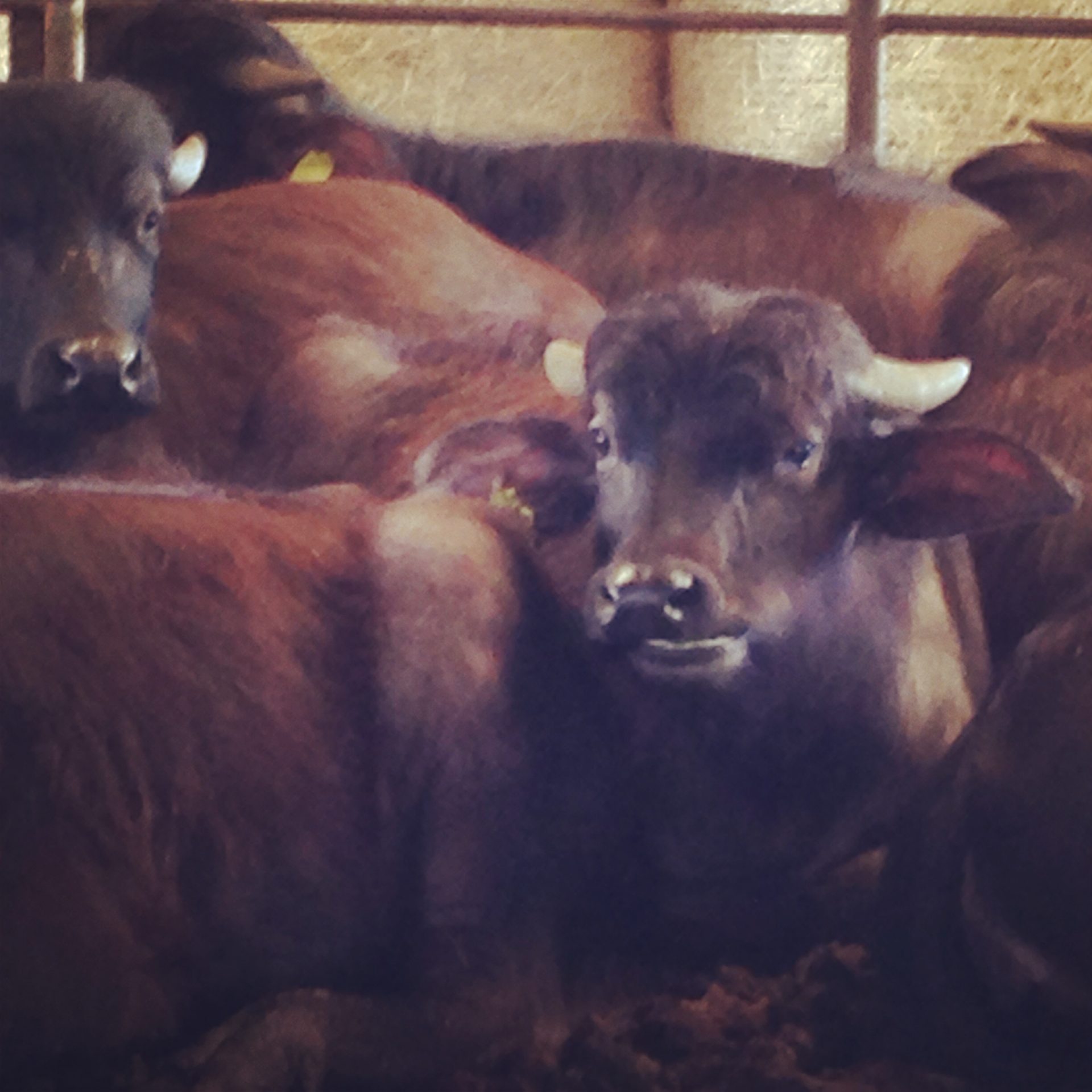 Meet Giuseppe & Carmen – Your Buffalo Farmers
Farmers: Giuseppe & Carmen Lemma, owners of the Roana Buffalo Farm
Where is the Roana Farm? Sezze, near Latina (Lazio, Italy)
What does Roana Farm produce? Buffalo Mozzarella
4 Reasons to Visit Roana Farm & Eat Mozzarella di Bufala?
About the Family. With 4 generations of buffalo farming under their belts, the Roana Family know a thing or 2 about cheese. You'll be greeted by either Giuseppe or his daughter. Giuseppe comes from a family of buffalo farmers from Battipaglia, near Salerno in Campania – considered home of Buffalo Mozzarella. His daughter Carmen entered into the family business after finishing her studies and now runs the farm shop.

About the Buffalo. The buffalo live in excellent conditions and every buffalo is even washed before each milking. Almost all their food is produced on the 100 or so hectares that make up the farm so they eat really fresh food all year round, which you can taste in the mozzarella.

About the Farm. The farm is absolutely beautiful – with manicured lawns, open fields, really friendly staff, and a diary shop that is modern & very stylish. The shop is all stainless steel and glass, didactic panels with the history of mozzarella on the walls. So you'll have a healthy mix of tradition & modern facilities.

About the mozzarella. Tradition with a twist: At Roana they continue to make mozzarella di bufala according to traditional methods, but they also used buffalo milk in new and innovative ways to create with a wide range food products, such as ice cream and yoghurt that naturally have half as much fat as ice cream and yoghurt made with cow's milk because of the Buffalo milk's nutrional properties. Yum!
Is Roana Farm open to the public?
Visits need to be arranged in advance to fit in with the farm's busy working schedule.
Write us at:
info@italyfoodroots.com

Is Roana Farm easy to get to?
The Latina area is easy to get to from Rome either by car or train. However, if you don't know the area, it can be a difficult to find the Roana farm's location. That's where we can help.
Best Time to Visit Roana Farm
All Year Round.
Cheese is made a couple of times a week at least, although the frequency varies according to the season.
How many buffalo does the farm have?
1,200 buffalo, of which 720 produce milk for cheese and other dairy products
Can I buy products at the farm?
Yes you can! The farm has a well-stocked shop which showcases all of their dairy & meat products! Cheese is made every day late at night, so the shop is open every day bright and early. Even on Sundays! Get their early – as this cheese goes pretty fast!
What Can I buy at the Roana Buffalo Farm?
Cacio cavallo, smoked provola, primosale, ricotta and other cheeses made with buffalo milk
Buffalo steaks, salami and other selected cuts
Yogurt made from buffalo milk
Ice cream made from buffalo milk
Creme caramel made from buffalo milk (this is a must for anyone with a sweet tooth.Can I eat at the farm?
Yes. Meals can be arranged for larger parties on the farm
Where's the Best Mozzarella di Bufala in Italy?
The best place to taste mouth-watering mozzarella di bufala is in the Campania region of Italy, but actually… there's even better. The "Agro-Pontina"  area of southern Lazio is home to some of the finest buffalo mozzarella in Italy.
Buffalo herds have been in Agro-Pontina, Lazio since the middle ages! The resistant buffalo were particularly suited to the swampy 'agro pontino' (drained in the 19th-20th centuries) and their large wide hoofs meant they didn't sink in the mud.
---
Italy Food Roots Reviews Roana Farm

Adam says:
"I had never tasted fresh Buffalo Mozzarella before visiting so their cheese had a lot to live up to since everyone always raves about how good the fresh stuff is compared the ones you buy. Luckily I was in really safe hands at the Roana because the Mozzarella's were fresh, succulent and started off my faith in mozzarella 'fundamentalism' – that is has to be fresh, made with buffalo milk, and has to 'cry' when you press it. Everyone remembers their 'first time' and my buffalo mozzarella initiation is no exception: The 2 whole mozzarella I bought from Roana were kept in their warm liquid until we were hit by a dramatic rain storm while high-up in the Lepini mountains, in the middle of the ruins of the ancient Roman town of Norba. With mist and rain swirling around us, and 0 visibility, there was nothing left to do but take refuge in the car and enjoy the mozzarella in silence. I man-handled the juicy while cheeses into a roughly split loaf and bit down like there was no tomorrow. To paraphrase that famous Italian 50's film – pane, amore and mozzarella."
Farmers: Giuseppe & Carmen Lemma, owners of the Roana Buffalo Farm
Where is the Roana Farm? Sezze, near Latina (Lazio, Italy)
What does Roana Farm produce? Buffalo Mozzarella