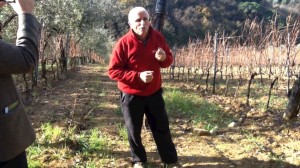 "How can you not fall in love with Italy & Tuscany after meeting Gennaro?"
Gennaro absolutely loves his trees & vines, and you will too after meeting him. He's old school and believes that olive trees can't be left to their own devices, but require persistent and careful pruning and treatment to keep them healthy and productive. And the results are noteworthy because his wine & olive oil are incredible.
Bruscola Farm & Winery produce Chianti Classico DOGC using traditional vinification methods, as it's been done for generations – from father to son. Now that's beauty & culture worth preserving!
Quick Farm Facts About Bruscola Farm & Winery
Bruscola Farmer: Gennaro Mori, owners of the Bruscola Farm and Winery
Bruscola Farm Produces: Chianti Classico DOCG wine and Chianti Classico, DOP extra virgin olive oil
Location: San Casciano Val di Pesa in Tuscany, near Florence
Why Visit Bruscola Farm & Winery?
The Craft. These guys are real food artisans. Larger industrial wine and oil producers use advanced filtering and processing techniques to improve the quality of their product for the market. Being a small family business producing in small quantities, the Bruscola have maintained the authenticity and quality of it's product through the attention to detail and TLC that they dedicate to every stage of the making their olive oil and wine.
Want to visit Bruscola Farm & Winery?
The farm and winery are open every day although it's best to organize tastings in advance as everyone the farm is a family business.
Email us for arrangements @ info@italyfoodroots.com
The Taste. You'll get to taste Chianti right where they're made and aged. Tasting the Bruscola's wine and oil is a very personal experience because it all takes place in the cellars underneath the main house. You'll sip their wine between barriques full of Chianti Classico, while learning all about it. Much more intimate than most larger cellars who have purpose built tasting rooms.
The History. Gennaro's knowledge has been passed down generations. Gennaro learned how to prune his trees and vines from his Grandad, who was considered a local expert. He got his pruning diploma back in 1927, which was considered as big a deal as graduating in Engineering for the time. His father Dante built up the business in the 1970's and it's still going strong. Gennaro's prestigious origins are worth a story or two over a glass of wine.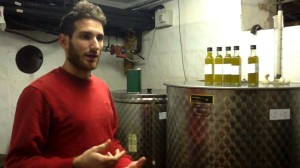 The Experience. You will discover the hidden secrets of what makes a really good glass of Chianti Classico and Olive oil. Gennaro's son Stefano and his sister's daughter are both very much involved in the business so you're sure to meet them and learn first hand what makes Chianti Classico so special.
They have their own mini-museum onsite with agricultural machinery and implements so you can learn all about olive farming and viticulture past and present.
Best Time to Visit
All Year Round.
November – December are the best time for Chianti Classico, and DOP olive oil lovers.
Late September – October is ideal for those who are mainly interested in Chianti Classico wine.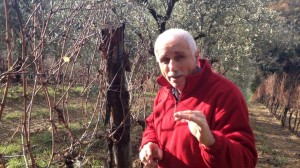 How Many Vines & Olive Trees Does La Bruscola Have?

3 hectare (7.5 acres) vineyard producing 2,800 kgs of grapes
3 hectare (7.5 acres) olive grove with 1,200 olive trees producing 1,400 kgs of olives
Can I Eat at the Farm?
Beyond tasting their produce, they don't have restaurant onsite although a meal tasting locally sourced produce can be arranged.

Can I Buy Products at the Farm?
Yes, from the cellars you can taste and buy all of the farm's products:
Chianti Classico DOCG (95% Sangiovese, 5% Colorino & Cannaiolo grapes)
Stibbio (80% Cabernet, 20% Sangiovese)
Vin santo di Chianti Classico
Grappa
Chianti Classico DOP Extra virgin olive oil
---
What We Think About Carlo Giuliani's Farm!
"Chianti Classico is one of the biggest names in Italian red wine and olive oil and visiting the world famous wineries in the Chianti area, it's clear to see how they've managed to combine a truly great product with entrepenturial florish, and the reason why it's 'Classico' is because they've managed to do so since the 17th century (don't forget that the Marchesi Antinori were successful wine merchants since the middle ages). Why visit a small family-run farm and winery when you could be rubbing shoulders with the international jet set just 5 min down the road? Because after having done the former, I can tell you that only at the Bruscola do you get a real sense for the reason why these products taste so good. You're able to see with your own eyes how they're made and listen to the farmers who have lived and breathed the vines and oil branches for generations to craft a product which is an extension of their own identity. With other wineries we were chaperoned around the premises and into the tasting rooms in less than 20 minutes, whereas at the Bruscola were stayed chatting and supping away at their Chianti for hours!"