We asked Sara Mercaldi, an Italian chef specializing in regional Apulian cuisine, a few questions about her work. And she was more than happy to answer. This farm-to-table chef grows her own food, cooks it and even invents new recipes using all local ingredients.
Where did you learn to cook?
I learned to cook from my mom and grandma.
Where do you cook?
I cook at my parents agriturismo/farmhouse restaurant.
Who works with you?
I mostly work alone, and sometimes with my mother.
Who washes your dishes?
I do.
How do you know if your dish is tasty?
My official taste-testers are my family. They tell me whether my dish is good enough or not!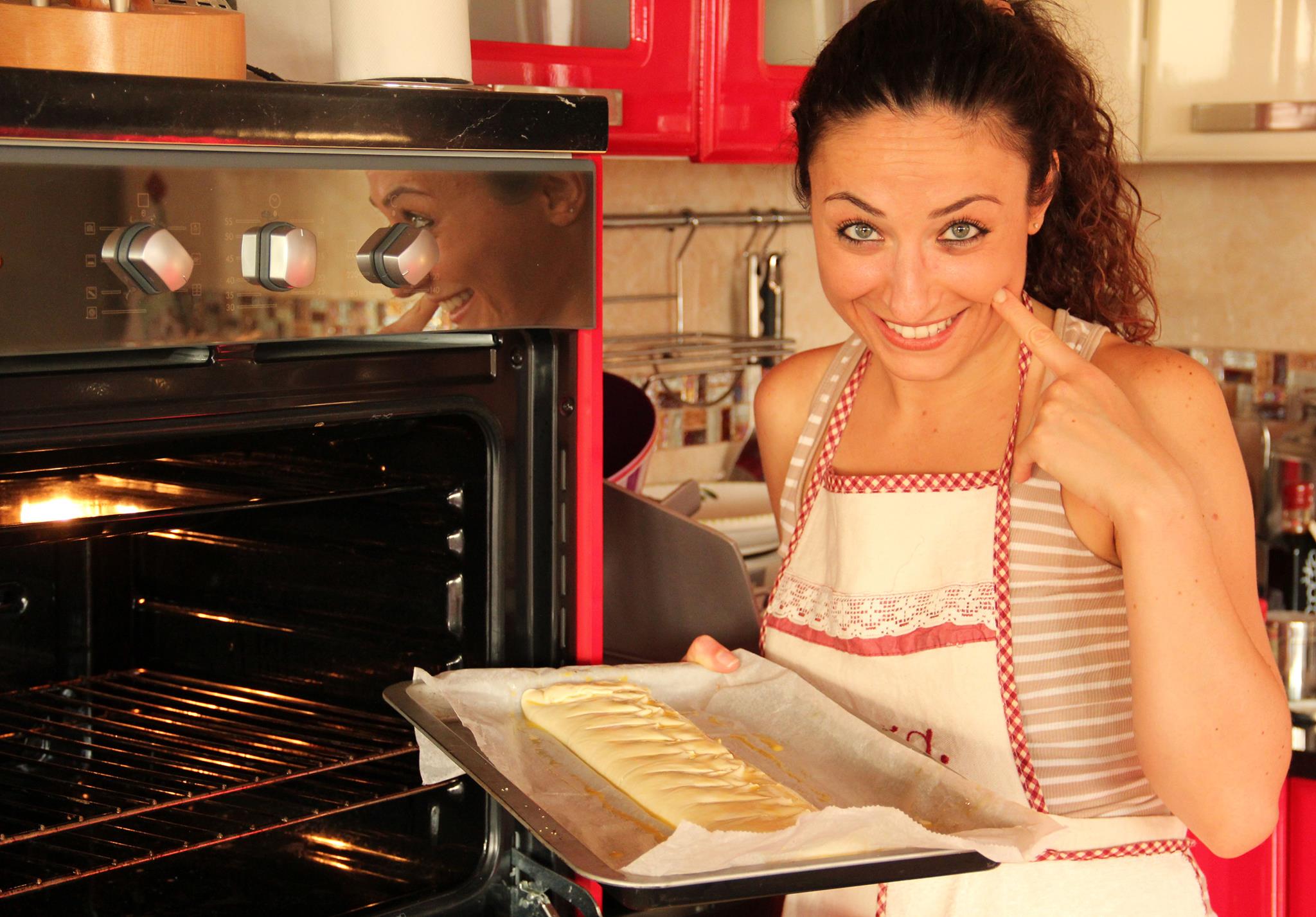 What is your favorite dish?
I don't have one favorite dish. I like vegetable dishes such as pancotto, orecchiette con cime di rape, bean soup, spezzatini di vitello e carciofi (veal and artichoke), cime di rape (bitter greens) stewed in onions, carrots, beef and cheese.
I also love meat! Grilled lamb, barbecued steak with grilled veggies – peppers, zucchini, grilled polenta and corn on the cob. I absolutely love grilled meats! I suppose that would be my favorite dish!
What's an original recipe of yours?
Fresh unleavened bread with pumpkin cream spread, speck (dry-cured smoked ham) and Pecorino cheese.
What music do you listen to when you cook?
I listen to Eros Ramazzotti, Julio Iglesias or Frank Sinatra!
If you could cook for one person, past or present who would you cook for and what?
I would cook for – the man of my dreams! And I would cook him paccheri pasta with fennel seed sausage sauce, topped with grated Grano Padano cheese, accompanied by Nero di Troia red wine.
What are the 3 key ingredients which best define Apulia & your cooking?
Extra virgin olive oil (Peranzana variety), Gargano tomatoes, Apulian grain which once cultivated is transformed into excellent flour, perfect for both fresh pasta and dried pasta.
And of course – vegetables – cime di rape (turnip top/bitter greens), chicory, chard, catalogna (in the chicory family, aka puntarelle), and all then there's the rainbow mix – zucchini, eggplant, peppers, zucchini flowers, red onions, leeks, our beloved fish – sea bass, cuttlefish, octopus, shrimp, swordfish, clams, mussels…
Where do you usually buy your food from?
I usually shop in my family garden located on my father's land, and I also buy at the local farmer's market. When I cook, I cook with quality local products, produced within Apulia. Some of the products I buy are wines from the TEANUM winery of San Severo, spumante sparkling wine from the D'Arapri producers, buffalo mozzarella and dairy products from the Masseria LI Gatti located in Castelnuovo della Daunia, Gargano red tomatoes grown and produced by Fututagri.
Why should we get to know the people behind the food we eat?
When you know the people who produce your food, you know what you are eating. People now look for quality more and more, so if you actually have the possibility of visiting a dairy farm, winery, mill, butcher, you can be sure of the quality behind your food.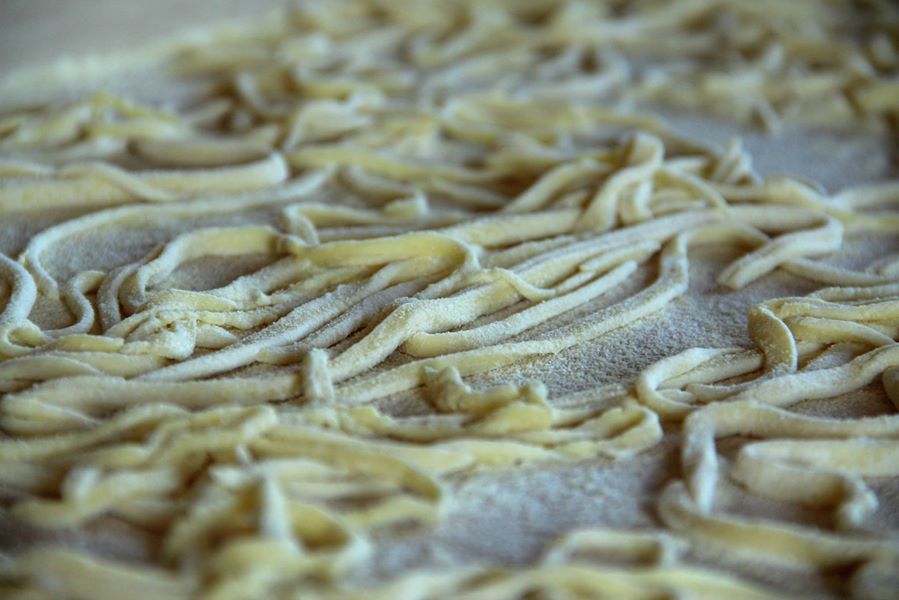 What food reminds you of your mother?
Homemade pasta. Orecchiette pasta, cicatelli pasta, lintorci pasta, the esteemed troccoli, wood-oven pizza, spaghetti with fish sauce,  baked fish in earthenware…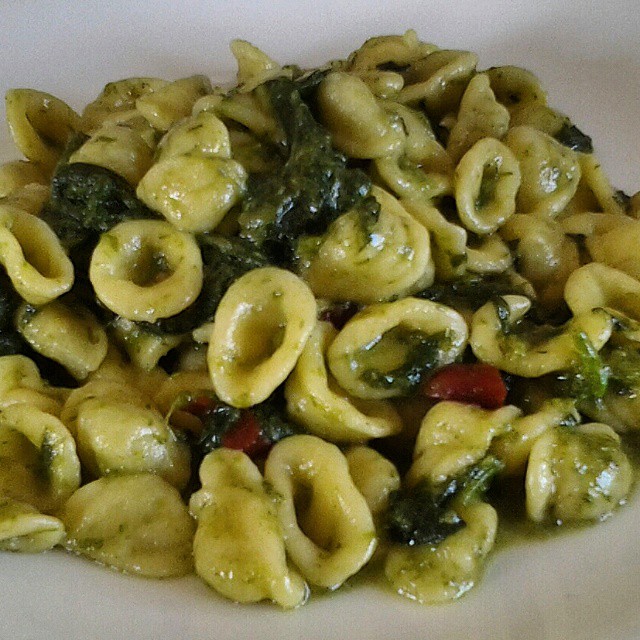 What is the perfect Sunday lunch for you?
Orecchiette con cime di rape or lintorci pasta.
Troccoli pasta with slow-cooked braciole meat.
Lasagna made with lamb, followed by lamb intestines & potatoes cooked with tassel hyacinth.
And of course accompanied by my favorite wines – Primitivo or Nero di Troia.
Who do you usually cook for?
I always cook for my family & friends. I look cooking for people who enjoy eating my food – typical casereccia and traditional Apulian dishes!
What did you parents or grandparents teach you to cook?
My mom taught me how to cook pizza, le scorpelle – fried pizza dough filled with anchovies or onions or shrimp. She also taught me how to make fried cod, oven-baked fish, fish soup and traditional Apulian desserts which are made with cooked grape must. Other desserts she taught me to make are nevole and le cartellate topped with cooked grape must or honey and covered in grated dark chocolate, chopped walnuts and almonds.
Other desserts my mom taught me to make are calcioni filled with ricotta cheese and grated chocolate, covered with millefiore honey and cooked grape must.
My grandma on my dad's side of the family taught me how to make homemade pasta like cicatelli, lintorci, troccoli. She also taught me to make baked stuffed eggplant in earthernware pots – a very typical Apulian dish made with the inside of the eggplant, rice, tomato, garlic, Pecorino cheese and herbs all placed on a bed of potatoes.