If you haven't tasted mozzarella di bufala or burrata yet, then you need to book your trip to Italy now. This decadent mozzarella is made from buffalo milk and is a common tabletop staple in southern Italy.
This mozzarella is so famous, that there are small specialty shops dedicated to it all around the country. Some of the most famous producers of buffalo mozzarella are found in the Campania region… but Lazio is a strong contender with an age old tradition of dairy farming.
Lupa Farm is one of the many dairy farms Italy Food Roots came across on our scouting down south. It was well-hidden and recommended to us by a local friend. We were greeted with such enthusiasm that we suddenly got a ad hoc tutorial on how to make burrata. The cheese was incredible and this place is well worth seeking out while in Latina.
Quick Farm Facts About Lupa Farm
Foods Produced: Buffalo Mozzarella, Fior di Latte Mozzarella, Burrata, Primosale, Ricotta, Salami
Lupa Family: the farm is owned by the Massaccesi brothers, but you'll find 3 generations of women running the show, manning shop and in the dairy factory
Location: Lupa Farm is in Pontinaia, near Latina. This area is southern to Rome & close to the coastline and Naples yet it still belongs to Lazio. It was once a buffalo herding ground, and luckily the tradition still remains.
Ready to Experience Buffalo Mozzarella & Burrata?
The family that run the farm are happy for visitors to take a look around although organized tours need arranging in advance to ensure that they are able to make time for demonstrations. Just email us @ info@italyfoodroots.com

Why Visit Lupa farm and dairy?
Glad you asked! For starters, visiting Lupa Farm will give you a taste of a real Italian family business. You really get the feeling of the hard work & passion that goes into running a small farm. If you listen to the family talk about how little they sleep and much coffee they drink to literally work around the clock to keep everything ticking. It started with milking in the evenings, cheese making at night, running the shop in the day, going to markets to sell the product, and looking after the farm – the taste of the mozzarella will change for you.
Another great reason to visit?
You get to learn how fior di latte and buffalo mozzarella are different! The Agro-Pontino is not only famous for buffalo mozzarella, but also its 'fior di latte', which is made in the same way as buffalo mozzarella only using non pasteurized cow's milk instead. What's great about the Lupa Farm & Dairy is that you can taste both and compare them as they make both onsite.
Then – who wouldn't want to see an Italian make mozzarella? We've eaten Italian food, now let's learn truly what artisanal means. Where many farms are scaling up and automating production techniques, the Lupa Farm is still very artisanal and you can speak to the owners as they do all the milking and cheese making themselves and in the process you will learn how to make buffalo mozzarella!
Best Time to Visit
Cheese is made all year round, so you can see it being made bright & early almost any day of the week!

Can I Eat at the Farm?
Yes! There is a small restaurant located next to the shop and dairy, open for lunch only. The atmosphere is very family-like and you'll feel more like you're a house guest, not a paying customer. We're pretty sure you're not going to be running into something like this in any of Italy's bigger cities so it's definitely worth a meal.
Can I Spend the Weekend at Lupa Farm?
Unfortunately not. Lupa Farm does not offer accommodation but less than half an hour away you'll find the beach town of Sperlonga full of tourism & accommodation. Did I hear beach & cheese weekend?
Can I Buy Products at the Farm?
Yes! The Lupa Farm Shop is open every day as cheese is made every night, even on Sundays! The Farm shop onsite stocks a full range of mozzarella cheeses (mozzarella di bufala, treccine, ovolini, fiordialtte) as well as meat products
Please note: Mozzarella di Bufala is an everyday food to the locals & not a one off treat like it is for most of us. This means that freshly produced buffalo mozzarella goes fast. You'll need to get there early as most of it is sold by midday!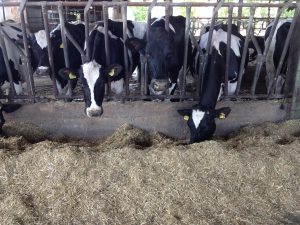 ---
What We Think About Lupa Farm!
Adam says:
"Just off the Appian way between Latina and Terracina, what I liked about this small family-run dairy farm was how natural and down-to-earth its owners were, not to mention how much they transmitted the passion for mozzarella and cheeses. Most small farms in the area just sell their fresh milk onto the larger cheese factories, but at La Lupa they've worked really hard to build up an end-to-end cheese business. This choice was motivated in part to make ends meet (because the price is milk is so low it almost costs them to keep working), but also for the pleasure and pride of making the milk your own herd produces into the cheese you know it deserves to be. At first they seemed a little surprised in our interest in how they made their cheeses and seeing how it was done, but once they warmed up, they really opened up to us and shared what it was like to be a dairy farmer in this part of Italy, warts and all. Great cheeses and new friends!"